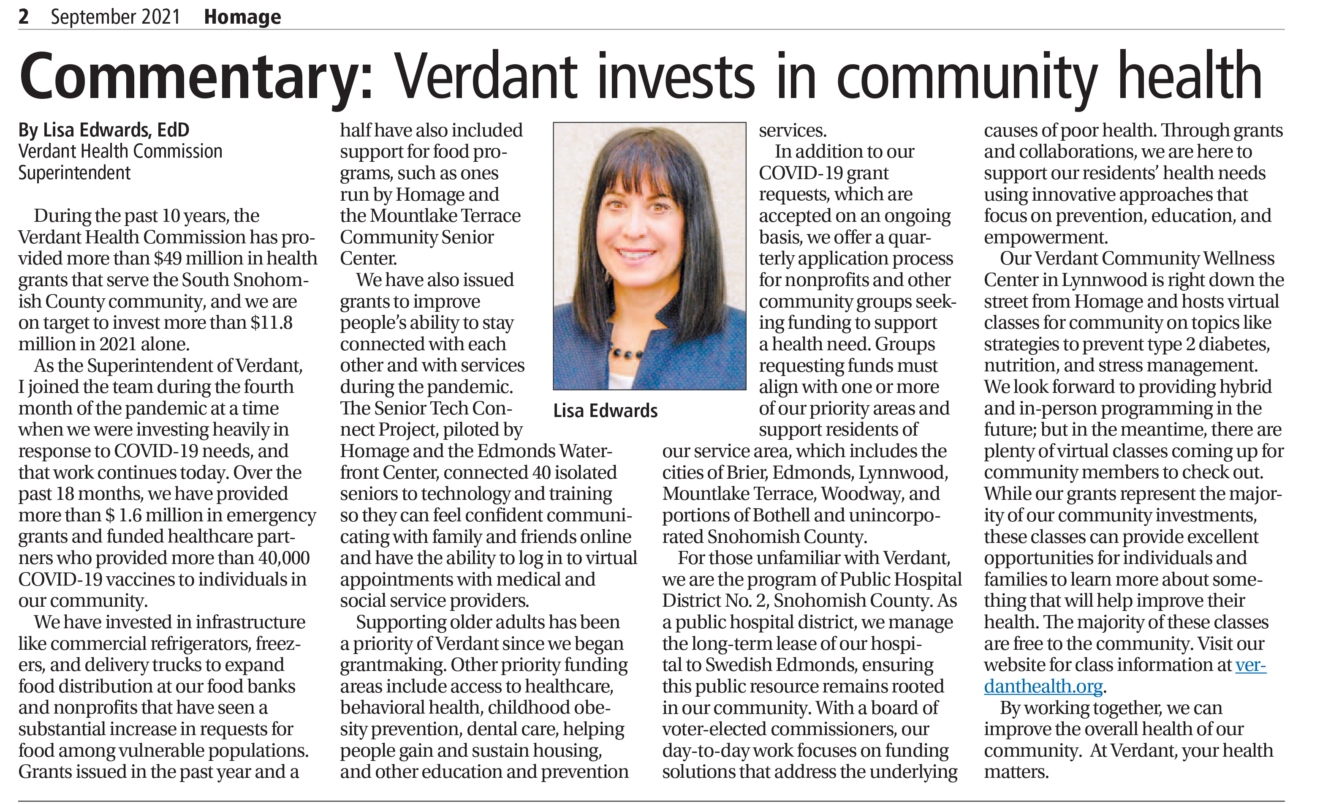 Commentary | Verdant invests in community health
The below article first appeared in the September 2021 edition of Homage News, which is distributed through the Daily Herald newspaper.  Visit homage.org to learn more about Homage, which supports older adults and people with disabilities.
By Lisa Edwards, EdD
Verdant Health Commission Superintendent
As the Superintendent of Verdant, I joined the team during the fourth month of the pandemic at a time when we were investing heavily in response to COVID-19 needs, and that work continues today. Over the past 18 months, we have provided more than $ 1.6 million in emergency grants and funded healthcare partners who provided more than 40,000 COVID-19 vaccines to individuals in our community.During the past 10 years, the Verdant Health Commission has provided more than $49 million in health grants that serve the South Snohomish County community, and we are on target to invest more than $11.8 million in 2021 alone.
We have invested in infrastructure like commercial refrigerators, freezers, and delivery trucks to expand food distribution at our food banks and nonprofits that have seen a substantial increase in requests for food among vulnerable populations. Grants issued in the past year and a half have also included support for food programs, including ones run by Homage and the Mountlake Terrace Community Senior Center.
We have also issued grants to improve people's ability to stay connected with each other and with services during the pandemic. The Senior Tech Connect project, piloted by Homage and the Edmonds Waterfront Center, connected 40 isolated seniors to technology and training so they can feel confident communicating with family and friends online and have the ability to log in to virtual appointments with medical and social service providers.
Supporting older adults has been a priority of Verdant since we began grantmaking. Other priority funding areas include access to healthcare, behavioral health, childhood obesity prevention, dental care, helping people gain and sustain housing, and other education & prevention services.
In addition to our COVID-19 grant requests, which are accepted on an ongoing basis, we offer a quarterly application process for nonprofits and other community groups seeking funding to support a health need. Groups requesting funds must align with one or more of our priority areas and support residents of our service area, which includes the cities of Brier, Edmonds, Lynnwood, Mountlake Terrace, Woodway, and portions of Bothell and unincorporated Snohomish County.
For those unfamiliar with Verdant, we are the program of Public Hospital District No. 2, Snohomish County. As a public hospital district, we manage the long-term lease of our hospital to Swedish Edmonds, ensuring this public resource remains rooted in our community. With a board of voter-elected commissioners, our day-to-day work focuses on funding solutions that address the underlying causes of poor health. Through grants and collaborations, we are here to support our residents' health needs using innovative approaches that focus on prevention, education, and empowerment.
Our Verdant Community Wellness Center in Lynnwood is right down the street from Homage and hosts virtual classes for community on topics like strategies to prevent type 2 diabetes, nutrition, and stress management. We look forward to providing hybrid and in-person programming in the future, but in the meantime, there are plenty of virtual classes coming up for community members to check out. While our grants represent the majority of our community investments, these classes can provide excellent opportunities for individuals and families to learn more about something that will help improve their health. The majority of these classes are free to the community. Visit our website for class information at verdanthealth.org.
By working together, we can improve the overall health of our community.  At Verdant, your health matters.