Program funded: Beginning in 2018
Nine out of 10 people with prediabetes do not know that they have it. This statistic from the Centers for Disease Control and Prevention is alarming. At the Verdant Health Commission, we want to help our community members identify if they are at risk of developing diabetes and find support to prevent or manage it.
The infographic below (click to enlarge) will help you identify if you might be at risk for developing prediabetes or type 2 diabetes. There is also a short test that can help identify if you are at increased risk at doihaveprediabetes.org. Talk with your healthcare provider to see if additional testing is needed.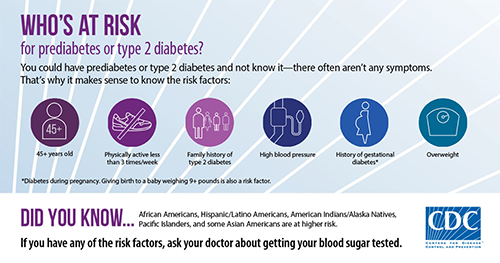 The good news is, if you have prediabetes, there are supports in place for you within our community.
If you are at risk of developing type 2 diabetes:
Verdant is partnering with two local organizations to offer the Diabetes Prevention Program. This year-long program includes small-group education around healthier eating, physical activity, reducing stress, and other behavior changes. Find the location that works best for you and contact them for specific details:
Verdant Community Wellness Center in Lynnwood

Program is led by diabetes educators from Swedish Edmonds
There are free info sessions to learn more in person. Call for the schedule.
To learn more or sign up, call (425) 640-4395

YMCA of Greater Seattle — multiple sites

Programs offered by staff at Dale Turner YMCA in Shoreline, Northshore YMCA in Bothell, and additional locations around King County
Includes a 3-month members to the YMCA
Programs may be offered in English or Spanish
To learn more or sign up, call (206) 344-3181
There could be a cost associated with the program. Depending on where you live and/or what health insurance coverage you have, this program may have no out-of-pocket cost to you.