Program funded: September 2013 through August 2018
It's no secret that times are tough for many individuals and families in South Snohomish County. For people with disabilities and older adults, often on fixed incomes, finding support can be a particular challenge.
What type of services will be offered at the Center for Healthy Living?
Aging and Disability Resources
Health Insurance Information
Multicultural Services
Food and Nutrition Services
Transportation Services
Wellness Programs
Dental Services
Mental Health Services
Family Caregiver Support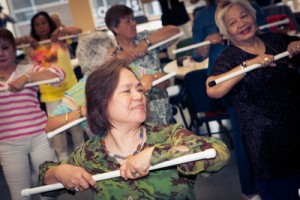 Enter the Center for Healthy Living. This new facility in Lynnwood is run by Senior Services of Snohomish County, which has a strong track record already for supporting older adults and people with disabilities. With help from Verdant, the Center for Healthy Living will bring services closer to home for our residents.
Senior Services of Snohomish County has worked with local senior centers in Edmonds, Lynnwood and Mountlake Terrace for a number of years already, and this new partnership will strengthen those relationships.
The Center for Healthy Living opened early November 2013 at 4100 Alderwood Mall Blvd., Suite 1, and its hours are 8:30 a.m. to 4:30 p.m. Monday-Friday.
For more information: www.homage.org/social-services/multicultural-services