At its October 2018 regular meeting, the Board of Commissioners of the Verdant Health Commission voted unanimously to appoint Edmonds resident James S. Distelhorst, MD to fill the seat vacated by Bruce Williams, MD, who resigned in July.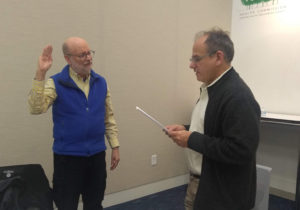 Knutsen went on to express appreciation for all of the applicants. There were four applicants, and each one was very qualified, making this decision extremely difficult, Knutsen said."We are looking forward to Dr. Distelhorst bringing his knowledge and perspectives to Verdant," said Board President Deana Knutsen. "His experiences as a medical provider will serve our community well as we make decisions about future programming and services offered by Verdant."
Distelhorst's professional experience includes practicing medicine, teaching residents, and working as an administrator at Valley Medical Center in Renton, which is Public Hospital District No. 1, King County. He has also researched, written, and edited evidence-based clinical care guidelines. Since retiring in 2017, Distelhorst has volunteered in the community on the Edmonds Senior Center Board of Directors and the City of Edmonds' Disability Board.
"I am happy and excited to join the Public Hospital District team at Verdant," Distelhorst said. "I hope to use my clinical, educational, and administrative experience to continue the promotion of evidence-based programs that support the health and well-being of district residents."
Distelhorst's appointment lasts until the November 2019 election, at which time anyone seeking to run for the remaining two years of the unexpired term will have to stand for election.
About the Verdant Health Commission:
The Verdant Health Commission funds a wide range of programs that empower people in South Snohomish County to make healthy decisions and get the care they need to stay well. As Public Hospital District No. 2, Snohomish County, we served the health needs of our community by managing the local hospital for nearly half a century. We are now focused on investing in innovative programs that will make a lasting impact on the health and well-being of South Snohomish County residents, with many free or low-cost education and prevention classes taking place at the Verdant Community Wellness Center in Lynnwood. Learn more at www.verdanthealth.org.