Insurance Enrollment Resources
Signing up for health insurance is simpler for uninsured and under-insured individuals using these resources.
At wahealthplanfinder.org, Washington residents without insurance or those looking to compare options in the Washington Health Benefit Exchange can search and sign up for health insurance during open enrollment periods. We have coordinated links to resources that will help make sense of it all for individuals and families.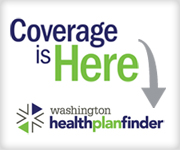 Enrollment
Enrollment is open at designated "open enrollment" periods for most individuals and families, but may be open year-round for some. Individuals and families can learn more and enroll online at wahealthplanfinder.org, over the phone at 1-855-WAFINDER (1-855-923-4633) or TTY/TTD 1-855-627-9604, or in person with help from trained, bilingual and certified navigators, agents or brokers.
Help enrolling is also available through:
General Resources
Individuals & Families Fact Sheet (.pdf) – Overview of Washington Healthplanfinder
What Obamacare Means for You – Produced by Kaiser Health News, a non-profit news organization covering health care policy and politics
Citizenship and Immigration Eligibility Chart (.pdf) – See who is eligible for what options, based on citizenship status
HealthCare.gov – Individuals & Families' Resources on the Affordable Care Act
Medicaid Expansion
Medicaid is now Apple Health – Overview and more details about coverage
Videos
The Marketplace for Individuals & Families by HealthCare.gov via YouTube
Medicaid Expansion Video by Robert Wood Johnson Foundation via YouTube