National Night Out (2022)
A Community Event!
An evening of reconnecting with old friends and meeting new ones!
August 2nd, 2022 5pm – 8pm
Resources for ALL
Free Food
Giveaways
Live Entertainment
Zumba
Costumed Characters
Children's Activities
Skill Building Activities
National Night Out is an opportunity for everyone to come together to promote a safe, healthy, and inclusive community.
Drawings for Free Groceries
Contact us : PHONE: (425) 582-8600 | www.verdanthealth.org families of all abilities and capabilities are Welcomed.
Location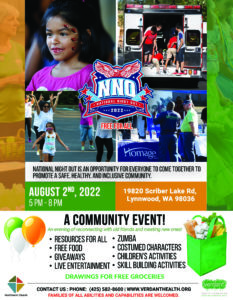 19820 Scriber Lake Rd, Lynnwood, WA 98036