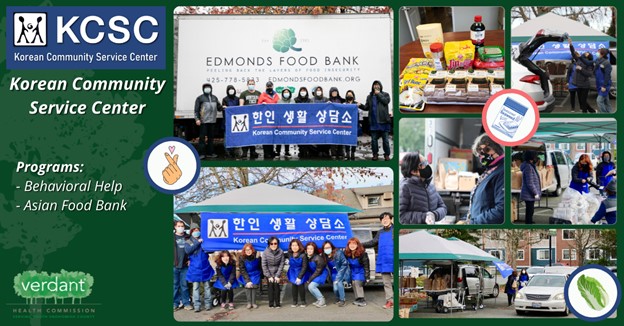 Community Grants:Korean Community Service Center (KCSC)
The Verdant Health Commission partners with the Korean Community Service Center to provide mental health services and cultural food access to the Korean and Korean American communities in South Snohomish County. 
The Korean Community Service Center (KCSC) noticed that the people they serve were having issues accessing resources because of language barriers. These problems included that traditional food banks did not cater to the diets of the Korean and Korean American cultures and that there is a lack of access to behavioral help that understands their backgrounds, identities, and culture. 
KCSC has partnered with the Edmonds Food Bank to ensure that important foods to the Korean and Korean American lifestyle are available to those who need them. Members of these populations received two bags of American staple food items and one bag of Asian staple food items. This bag included rice, soy sauce, noodles, green onions, ramen, Korean chili paste, napa cabbage, seaweed, and sesame sauce. In addition, there were instances KCSC gave away fresh tofu and bean sprouts. Overall, the KCSC provides a diverse range of cultural foods to ensure that the traditional palates are honored. 
Their drive-thru food bank has served over 50 families and looks forward to increasing that number to 75+ families in 2022. Word-of-mouth and social media have been their main promotional strategies to bring attention to the program. These strategies have been working for them to bring in more families in their community who face food insecurity.  
Although the program focuses on serving Korean and Korean American families, KCSC is more than happy to serve those outside the Korean and Korean American communities. They hope to eventually serve other Asian communities and additional BIPOC communities in the future. 
KCSC has also provided mental health services to their community. There was a need for a mental specialist who spoke Korean and English and was culturally sensitive. Their community was struggling with issues such as depression and anxiety. During COVID-19 clients can receive mental health support through a virtual meeting platform. Currently, their mental health program serves 12 clients in their community. 
As cases of COVID-19 rises, KCSC has postponed some of their events to keep their community safe. Their community is highly appreciative of KCSC for helping them access the resources they are providing.  
Besides food access and behavior assistance programs, KCSC also helps community members through immigration and legal issues. They assist in translating information from English to Korean. The translation services are beneficial and necessary for Korean community members going through any legal situation. 
Korean Community Service Center does a fantastic job of serving their community during this challenging time of COVID-19. We are so proud to partner with them and cannot wait to see them continue to achieve their goals. 
"When you have heart to support your community and really work hard, it works."
             – Joomi Kim, Executive Director