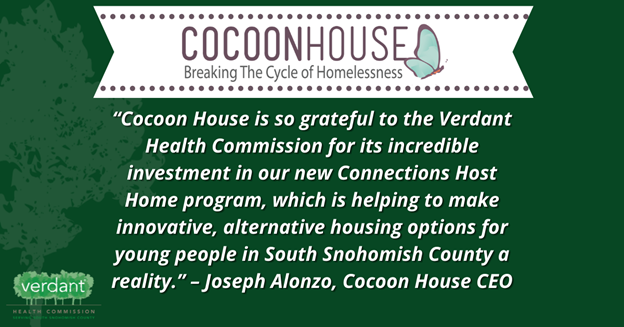 Community Grants: Cocoon House
Many youth members in our community struggle with mental health and there are some who are at risk for homelessness.   
Cocoon House features The Connections Host Home Program where they work with at-risk youth members to find host-homes to reside in for 21 days. Cocoon House works with youth and their families. They ask youth members how they can support them during their difficult time. Furthermore, they work with the family to find ways they can support their youth.  
Cocoon House's goal is to provide host homes all over the county. Compared to foster homes, opening a host home is not as large of a commitment. Cocoon House makes sure all those involved in the process have the support they need. Cocoon House welcomes an opportunity for young teens to find a safe place to live. 
Recently, Cocoon House helped one youth individual who was struggling with their family. Cocoon House helped them explore their interest in science and was able to connect the teen to real scientists. They were able to ask questions about stem cell therapy research and analytics. The teen had a sense of renewed hope and passion after talking to the scientists. Cocoon House approach methods to minimize stress and identify interests of the teen. The youth's family was able to receive some skills and information on how they can support their teen. The Connections Host Home Program is so important because it prevents youth turning to the streets.  
It takes a community to prevent youths from homelessness. We fully support what Cocoon House does for young people and their families to create healthier relationships.  
If you are interested in learning more about Connections Host Home Program, click here: https://www.cocoonhouse.org/hosthomes