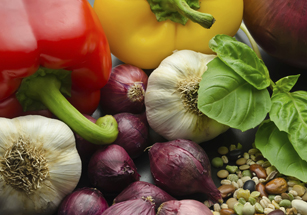 Check out our healthy lifestyle programs to start your new year off right
A new year often means a new start. If you want lifestyle changes that you can sustain, take a look at the Verdant Health Commission's "Mediterranean for Life" six-part program starting Thursday Jan. 17, "Meal Planning: Save Time, Stress Less, Enjoy More" three-part series starts Tuesday, Jan. 22, or the weekly Healthy Living Coaching Group for support and accountability. There are even more classes listed on our website calendar.
All of the classes are held at the Verdant Community Wellness Center, 4710 196th St. S.W. in Lynnwood.
Mediterranean Diet named the best for 2019
If you're looking for a reason to consider a Mediterranean approach, look no further than U.S. News & World Report's announcement of the Mediterranean Diet as the best overall diet. It also ranked #1 for diabetes, heart health, healthy eating, plant-based, and easiest to follow.  The CNN article "Mediterranean diet named the best for 2019" explains more about its benefits. We offer classes at Verdant highlighting this approach to eating regularly, and our next "Mediterranean for Life" program begins Thursday, Jan. 17. See the details at left or on the event website.
Mediterranean for Life
Verdant's Mediterranean for Life program is based on the Mediterranean Diet, a plant-centered, anti-inflammatory diet. This eating pattern promotes health, prevents many chronic illnesses, and is highly recommended by physicians. The program is run by a registered dietitian nutritionist and is based on research done by the University of North Carolina, a CDC Prevention Research Center.
Mediterranean for Life program details:
6 group sessions focused on healthy eating, exercise, and changing lifestyle habits.
Program features a culinary demo, weekly recipes, and food samples.
Each session included personal goal setting and strategies to fit your needs.
Program fee is $35 per person (scholarships available) and includes a comprehensive manual.
Program will be offered 3 times in 2019. The first series runs Jan. 17 – Feb. 21, 2019.
This $35 program runs six consecutive Thursdays: Jan. 17, 24, 31; Feb. 7, 14, and 21, 2019 from 6-7:30 p.m. (The group will meet from 6-8 p.m. on the first night, Jan. 17.) The program includes a one-time fee of $35, and scholarships are available for those who qualify. Register or learn more on the registration website.
Meal Planning: Save Time, Stress Less, Enjoy More!
This 3-part series will take a fresh look at how to plan meals – breakfast, lunch, dinner, and snacks – to fit your lifestyle while meeting your health goals and budget. We'll discuss strategies to streamline shopping and cooking, including techniques for meal prepping and recipe ideas. Our last class will be a grocery store tour to explore the shopping experience with new eyes, decipher food labels to find products you seek, and have a little fun.
What you can expect:
3 group sessions with a Registered Dietitian Nutritionist
Nutrition information and strategies to streamline meal planning
Final session will meet at the grocery store for a tour guided by a nutrition professional
What's expected of you:
A commitment to attend all three sessions
A desire to learn more about planning healthy meals that fit your tastes and budget
To have fun and enjoy your journey to healthier eating!
This 3-part series takes place on Tuesdays: January 22, 29 and February 5, 2019 from 1-2:30 p.m.
This series costs $15 per person, and scholarships are available. Register or learn more on the registration website.
Healthy Living Coaching Group
Would tips and ideas from health experts help you prioritize your health and reach your goals? Join Verdant's free, weekly coaching group for support, accountability, and motivation to improve your habits and live a healthier life!
The coaching group is not a "plan" or "diet," but it is an opportunity to learn goal-setting strategies,  nutrition tips, physical activity ideas, debunk health myths, and stay accountable. Facilitated by nutrition and exercise professionals, the group meets every Tuesday from 6-7 p.m. This is a drop-in program. Specific nutrition and physical activity topics are updated in advance on the website calendar.