Our Community
About Public Hospital District No. 2, Snohomish County
The Verdant Health Commission is governed by five elected commissioners, each elected for a term of six years by the voters of Public Hospital District No. 2, Snohomish County. The hospital district serves nearly 200,000 residents in the communities of Brier, Edmonds, Lynnwood, Mountlake Terrace, Woodway and portions of Bothell and unincorporated Snohomish County. See the district map below.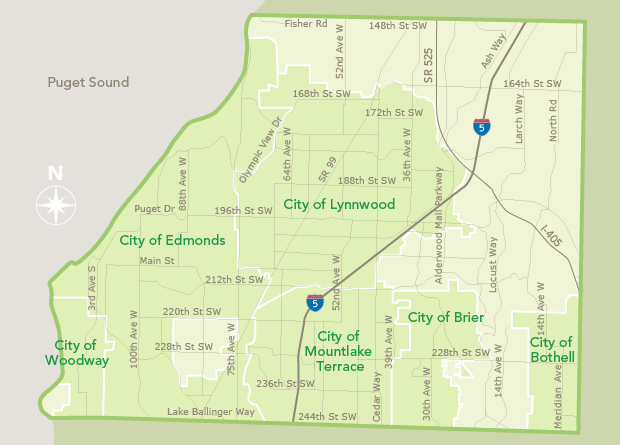 Hospital district background
Prior to managing the Verdant Health Commission, the Board of Commissioners governed Swedish Edmonds Hospital (then known as Stevens Hospital), founded in 1962 to serve the residents and families of the hospital district. As of the September 2010 hospital affiliation with Swedish, the board no longer governs the day-to-day operations of the hospital. However, the board does retain oversight on major hospital decisions.
How is our hospital district supported?
The hospital district is supported, in part, by an ongoing Maintenance and Operation (M&O) tax levy. The M&O levy for Public Hospital District No. 2 of Snohomish County is one of the lowest in the region. The Verdant Health Commission receives most of its revenue from hospital lease payments from Swedish.
Needs Assessment
In 2016, the Verdant Health Commission conducted a health and wellness needs assessment. The results help Verdant determine how to invest its resources. Since 2014, Verdant has made supporting access to mental health and adult dental services two of its top priorities, as those areas were some of the highest needs identified in the assessment.
Below you will find a summary of the data collected and analyzed in the health needs assessments run by Verdant.
Key Messages from Needs Assessment
The general health status of South Snohomish County residents compares favorably to the rest of Snohomish County. However, within our district there are wide variations in some health indicators such as obesity rates, smoking, and prenatal care.
Our hospital district, compared to Snohomish County, is slightly more racially diverse, more educated, and has fewer families and children living below the federal poverty line.
Like much of the country, Snohomish County and the hospital district are aging. Today, 14 percent of the population is 65 or over, and this number is expected to rise to 20 percent by 2030.
Overall, 69 percent of the hospital district's population is white, 15 percent is Asian/Pacific-Islander, and 8 percent is Hispanic. Students in the Edmonds School District speak 82 different languages.
Although health status in the hospital district is excellent, there are areas of concern:
– Suicide rate, increased (non-significant) between 2011 and 2015
-Youth symptoms of depression, increased between 2012 and 2014
–Flu shot use among older adults, only 63 percent vaccinated
–Obesity (Body Mass Index ≥ 30), 25 percent of population is obese
–Physically activity, 36 percent of population not meeting guidelines; 75 percent of youth not meeting guidelines
–Dental insurance coverage, 29 percent do not have coverage
–Dental visit, 27 percent of population has not had a dental visit in the past year