Verdant Community Wellness Center
Come to the Verdant Community Wellness Center for classes, speakers, workshops and meetings that support the health and well-being of our community.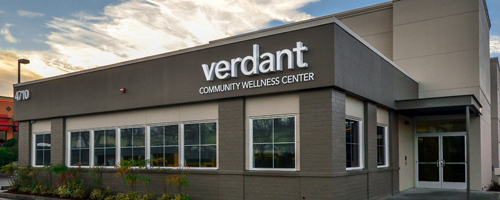 Wellness Center Classes and Events
If you are interested in participating in any of the activities or programming taking place in the Verdant Community Wellness Center, please visit our events calendar to see what is scheduled and open to the public.
Community Use of the Facility
The Verdant Community Wellness Center has space available for health and wellness-focused classes and programs, community meetings and special events.  The 9,000 square-foot building includes a large training room, a teaching kitchen for healthy cooking classes, a medium-sized classroom, several smaller meeting rooms, and flexible work space for Verdant's partners.

If you are interested in reserving the space at the Verdant Community Wellness Center, please use the following process to understand our policies, check availability and submit a reservation request:
1.  Review the Facility Use Guidelines 
2.  Submit a Facility Request Form – First check room availability on the calendars below to ensure the room is available that day and time.
3.  Submit an additional Kitchen Request Form for use of the demo teaching kitchen.  The kitchen comes equipped with basic cooking equipment and supplies.  Please see the VCWC Kitchen Equipment List.
Reservations for space are reviewed on a first-come, first-served basis.  Facility request forms should be submitted by:
Fax:  (425) 582-8527
Mail:  4710 196th St. SW, Lynnwood, WA 98036
 Room Availability
Download the Rooms & Resources to learn about capacity and room features. View individual room availability on the calendars below.  You can preview the calendar by the month/week/day – click on a day to view reservation details.  It is helpful to know the following terms to determine if space is available:
Away = Wellness Center is closed
Busy = Facility has been reserved and is not available
Tentative = Facility reservation is on hold
Rooms Available
If you have questions, please call (425) 582-8600.